Designed and quilted by Ric d. Stark
Fabric: 100% cotton-- background hand-dyed by Ric Stark; black solid American Made
Batting: 100% polyester, Quilterʻs Dream
Dimensions: 93" x 93"
Completed April, 2022.
Price: $40,000.
As with most of my Hawaiian quilts, Wana'ao o Haleakala (Dawn on Haleakala) tells two stories-- one personal and one of our beloved Queen Liliuokalani. Likewise, the subject of this quilt tells two of its own stories. Well-known is the silversword (he 'ahinahina) of Haleakala on Maui. Yet, a second species of silversword clings to survival on the upper slopes of Mauna Loa on Hawaii island.
In Hawaiiʻs Story by Hawaiiʻs Queen, Liliuokalani describes her own ascent on horseback to the summit of Mauna Loa on Hawaii. There the queen certainly encountered the simpler, less-grand species of Mauna Loa silversword. (I have yet to conclude whether the queen visited Haleakala.) In her own account, the queen ties herself to that majestic and awe-inspiring succulent with its incredible plume of bloom.
He 'ahinahina (silversword) does have two species. It grows in only two places in the world-- the slopes of Mauna Loa and inside the crater of Haleakala on Maui. The hearty lowly succulent  with its drought-resistant plant grows for some eight to ten years. Then in a dramatic climax, silversword sends up a gigantic plume of flower, reaching eight to twelve feet in height. The spectacular show may last for a couple of months. Then the entire plant dies-- cycle of life complete.
In April 1987 on the morning after I had resolved to make Hawaii my home, I had one of my lifeʻs great fortunes. Having joined friends on a day-long hike in the crater of Haleakala, I had arrived at the Haleakala summit in the pre-dawn hours. Sunrise on Haleakala-- no words can evoke the power and mystery of the moment!
But happen, it does, each and every dawn. On that particular day, I stood on the rim of the crater, gazing across at one of the mystical moments in life. As the sun broke the horizon, I beheld these images of silversword. Back-lit by the sun, I gazed upon these majestic plumes, which appeared black in my vision. Never before or since, have I looked upon a flowering plant that so pierced the physical reality to implant forever in my heart a mystical moment. Wana'ao o Haleakala.
Two life-inspiring treasures: He 'ahinahina (Maui silversword) and Queen Liliuokalani (whom I honor with my quilting).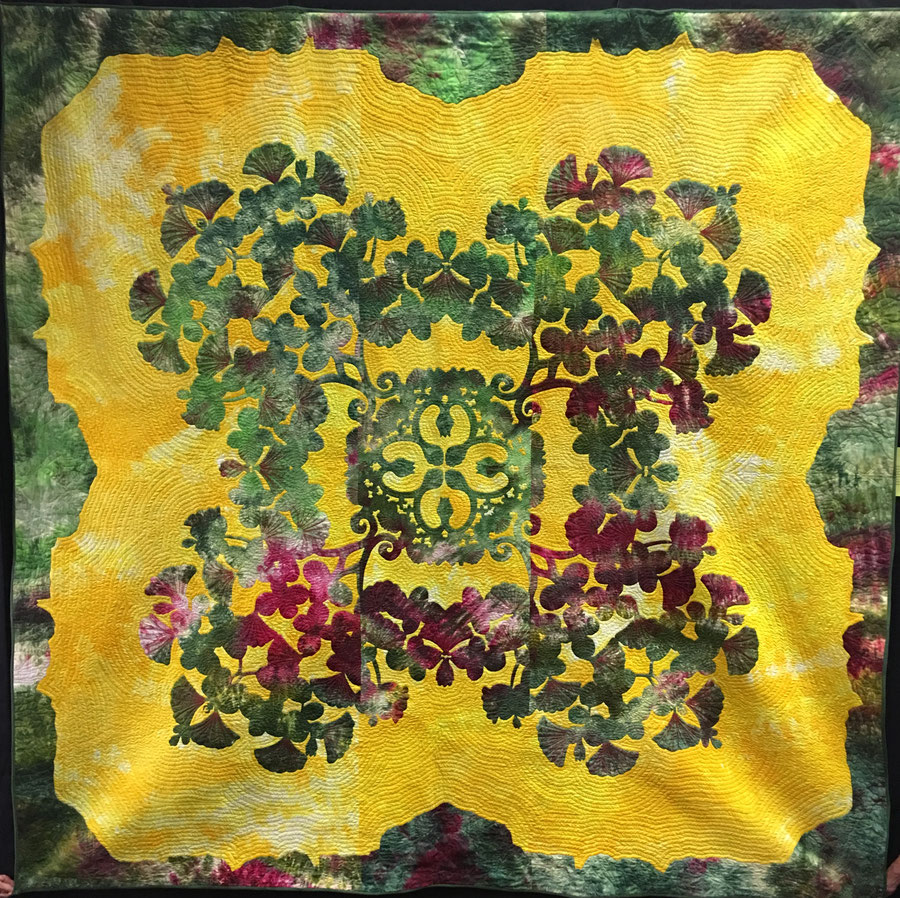 Design and quilted by: Ric Stark
Fabric:  100% cotton, hand dyed by Ric Stark

Batting, 100% polyester (Quilters' Dream)

Dimensions:  105" x 105"
Completed, May, 2019.

Price:  $40,000.00
"Ka Lehua Papa" tells two stories.
As princess, Liliuokalani, an accomplished equestrian, rode deep into then remote Palolo Valley-- into the area called Waiomaʻo, where her party ascended Waiomaʻo Trail toward the summit of the Koʻolau. So moved by the beauty of Waiomaʻo, the Queen composed a song,  comparing the chilly rain and winds to the emotions of a secret love.
"Pipili ka Ua i ka Nahele" shares a recurring theme drawing comparisons between Hawaiian nature and love.
A second story emerged in 2013 when I learned from an avid windward hiker about a unique, rare species of ʻohiʻa, "ka lehua papa", which grows only in the challenging, limited environment of the crest of the Koʻolau on ʻOahuʻs windward side. Weathering the brutal winds on the summit of the range, ka lehua papa evolved and thrives with tiny, deeply-grooved leaves, which are stiff and leathery.
Did the Queen ascend to the summit? Did she see and experience the unique spell of ka lehua papa? The answer is not documented. But the association is certain and a quilt is born.
***********************************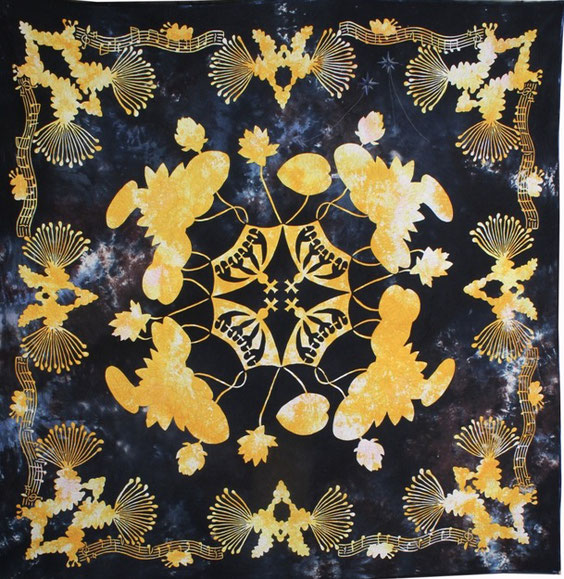 Design and quilted by: Ric Stark
Fabric:  100% cotton, hand dyed by Ric Stark and Kathy Lukens

Batting, 100% wool (Quilters' Dream)

Dimensions:  94" x 94"
Completed, April, 2014.

Price:  $40,000.00
"He Po`ai Aloha" represents my most complex work to date-- both technically and in "he mana`o", (thought, spirit of intention).

As with all of my quilts now, this quilt is dedicated to Queen Liliuokalani.  The quilt commemorates the Queen's song, "Sanoe", which poetically is a secret love conversation between water lily (the female) and ka lehua (the male).  The song score of "Sanoe" is quilted meticulously into the border!
"He Po`ai Aloha" (Encircled with Love) is the title of a 2000 presentation of Nalani Olds, in which she toured the islands and shared a talk story/ song presentation to promote the long-anticipated publication of "The Queen's Songbook".  "Sanoe" was co-composed by Queen Liliuokalani and Elizabeth Achook, who was Nalani's great grandmother.

As rich as this quilt may emerge in fabric color and detail, "He Po`ai Aloha" will ever reach upward to pay due honor to our beloved Queen, Elizabeth Achook and Nalani Olds (our own beloved "living treasure")!  Mahalo no, e Nalani!  He makamae nui `oe!

*****************************************************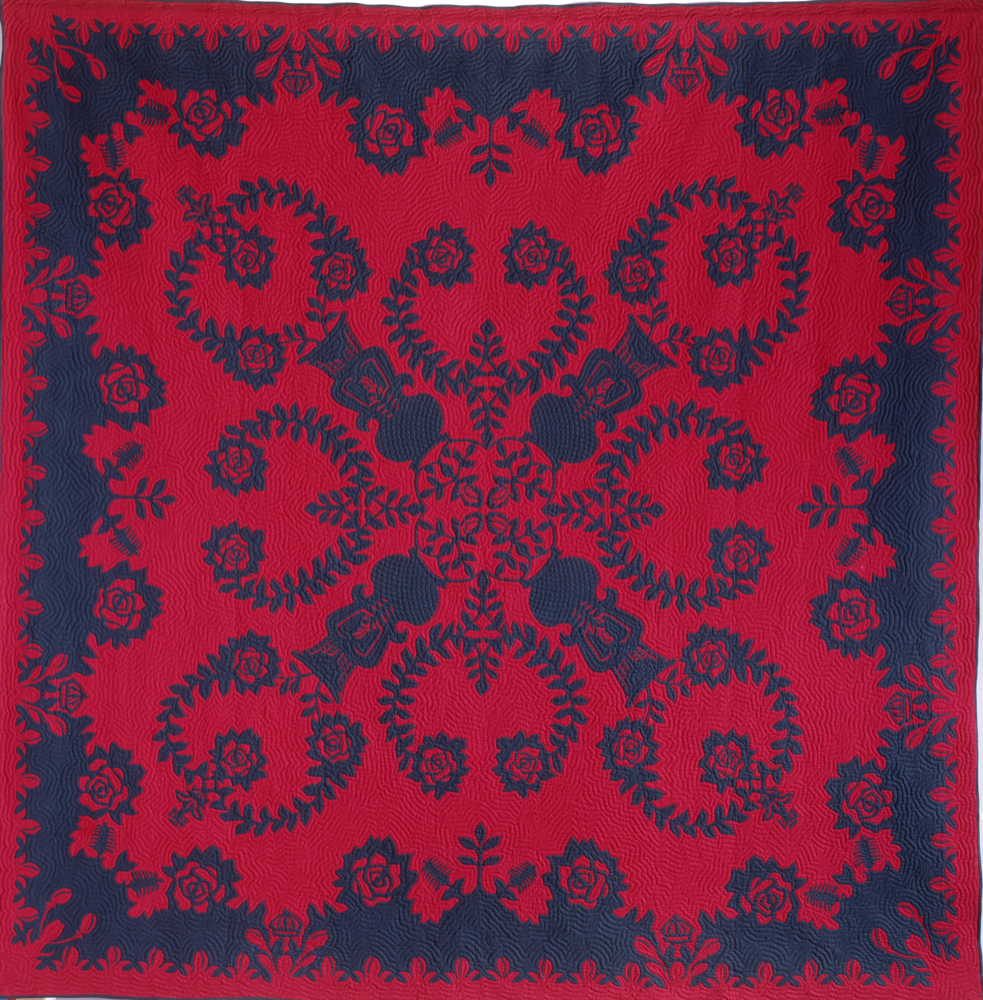 He Mala Pua Loke o ka Wahine Mo`i
Designed by Ric Stark and Allan James; quilted by Ric Stark
100% Kona cotton
Batting 100% polyester 
Dimensions:  109" x 108"
Completed April, 2001
Price:  $35,000.00
He Mala Pua Loke o ka Wahine Mo`i (The Queen's Rose Garden) was my first kapa moe (bed quilt).  Begun a few months after my first teaching under my Aunt Vi, this quilt was designed and made for my mother, Marjorie Stark, in Charleston, Illinois.  Mom treasured the quilt and shared it for 14 years from 2001 until her passing in 2014.
Working together with Hawaiian artist Allan James, I shared my mana`o (idea) for the quilt, while Allan drew the images.  Over the time of several months we co-created this pattern.  As work on the pattern progressed, I kept envisioning images of crown and kahili.  Sharing this with my kudu, Aunty questioned me in detail and then pronounced the quilt as "kapu" (sacred) until such time as Mom no longer possessed the quilt.
What emerged was a pattern showing images of my mom's favorite flower (her bright red Mr. Lincoln rose) with images of Hawaiian royalty (kahili and crown).  Unknowingly, this quilt emerged as the first of what has now become my mission, "to create a collection of quilts to honor the life and legacy of our beloved Queen Liliuokalani."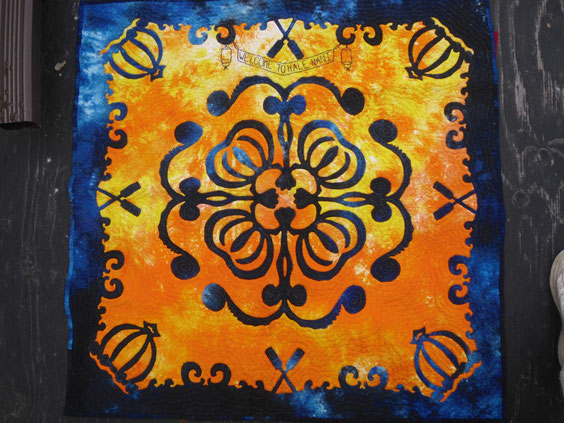 Design and quilted by: Ric Stark
Fabric:  100% cotton, hand dyed by Ric Stark

Batting, 100% wool (Quilters' Dream)

Dimensions:  39" x 39"

This quilt hanging commemorates Queen Liliuokalani's royal visit to the island of Kauai on July 8, 1891.  Just a few months after her coronation as Hawaii's monarch, the Queen made a momentous voyage to Kauai.  Already under siege by American foreigners, the Queen exchanged respect and homage with the proud but independent subjects of the Leeward Islands.

In the pre-dawn hours with high tide, her ship awaited dawn outside Nawiliwili harbor, while excited Kauai supporters the hillsiide with glowing lantern lights.  The visit was elaborate and much celebrated with reception and ceremony at Hale Nani.

In the quilt, mokihana with hapu`u fern in the center motif represent Kauai, while ocean waves and the queen's Pua Kalaunu (crown flower) surround the island and announce the arrival of Her Royal Majesty.  What an occasion to have witnessed!

Asking price:  $6,000.00

I will do commissioned work. Serious inquiries are welcome.  I will work with a client to create a work in the spirit of his or her wishes.  
A few words toward that subject:
Quilt design is a creative process in which we facilitate in allowing the kapa to be born.  As with a wall hanging, "Makai", completed in August, 2015, the client and I shared ideas back and forth, until what emerged was a design, both unique and quite richer than what we had expected.  That captures the creative process, which I strive to attain which each new  quilt endeavor.
I am a practitioner of a long tradition of Hawaiian quilting. Until recent decades Hawaiian quilts were almost exclusively "kapa moe", bed-sized quilts.      I honor that tradition and strive to perpetuate that living heritage of kapa moe (bed quilts), which has been passed from generation to generation; from grandmother to granddaughter; from Aunty to younger "son".  I have done smaller works (wall hangings) and I will continue to do a few.  I do find, as each quilt emerges into being-- the stories become grander and the motifs more intricate and complex.  These too call for "a larger canvas".
If you are so moved, just reach out and call.  We will open dialogue and see.  Who knows where "the aunties" might lead us in our next kapa!